The flagship Merchbar website is a central destination for fans around the world to discover and buy 100% authentic physical products from their favorite artists.
Merchbar.com seamlessly unifies more than 1,000,000 products from more than 35,000 artists and nearly 100 different corporate partners from around the world.
Continually improving, Merchbar.com provides fans with unique services like unified instant product search, Google Places address auto-fill and other distinctive features to enhance the fan experience and improve sales for artists.
Merchbar.com reaches over 1,000,000 music fans each month around the world.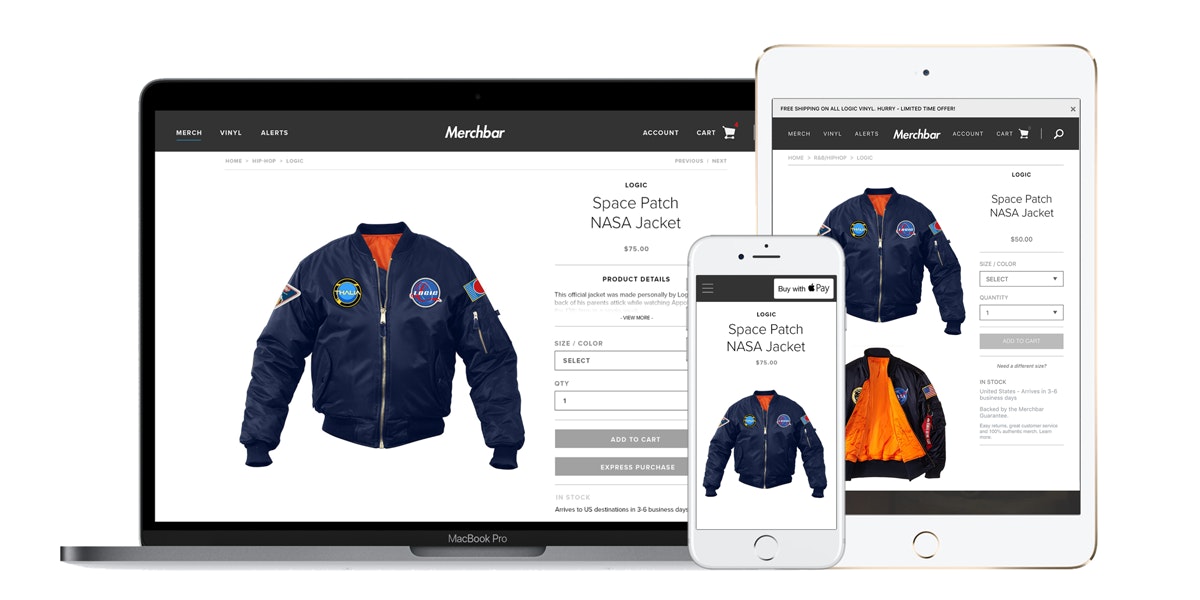 Merchbar Newsletters
Merchbar's newsletters go out to over 1,000,000 fans per week, as we highlight our bestselling new products and identify the hottest trends in music merch.
Vinyl Newsletter
Our weekly newsletter features new albums, rare pressings, deluxe box sets and everything in between. Curated by true vinyl fans on staff, this newsletter is an incredible tool for product and artist discovery.
Merch Newsletter
This weekly newsletter brings our fans our newest and hottest t-shirts, hoodies, hats and accessories on the platform. With hundreds of products introduced every day, this is a phenomenal way to highlight the best merch artists have to offer.
Merchbar Merch Alerts
Merch Alerts is Merchbar's proprietary fan promotion and discovery network providing personalized email notifications when fans' favorite artists have released new merchandise.
Merchbar Merch Alerts is growing quickly with over hundreds of thousands of members and tens of millions of connections between artists and fans
Merchbar Collections
Merchbar collections are unique, editorially curated selections of noteworthy merchandise around topical themes. They are promoted via Merchbar.com, Merchbar for iPhone, Merchbar social media and the Merchbar newsletter.
Social Card Support
Merchbar supports all major product listing formats including Twitter Cards, Pinterest Products, Facebook Products, Google Products and other systems.
Search Engine Optimization
Merchbar automatically enhances artist and product listings to maximize visibility of products to fans searching for them on major search engines.