Product page metadata refers to all the visuals, information, and details about an item that are shown to a customer. This includes: product names, photos, product descriptions, marketing language, sizing information and more.
Why Does It Matter?
Ecommerce doesn't have the luxury of a tangible in-store experience, limiting fans to images and words to make their decision. To make an e-commerce sale, we have to accomplish two things:
Getting a customer to visit a product page. Product page metadata improves both SEO (search engine optimization) and SEM (search engine marketing) effectiveness and drives more traffic.
Convincing a customer to buy the product. It's what a customer sees at this crucial moment. The more information the customer has, and the more excited the customer gets about the product, the more likely he or she will buy.
How Much Does It Matter?
Product page metadata makes a massive difference. We've seen that effective product page metadata can increase conversion rates by about 3 times over poor product page metadata. That is huge!
When launching a new product, this quick checklist is a good gauge on the key aspects to include when listing:
☐ Using images
☐ Artist details
☐ Other SEO drivers
☐ Vinyl Record Details
☐ Clothing details
First impressions are everything, which means making sure you have the best image possible for products can be make-or-break. You have great products, and we want the attention they deserve drawn to them. Impulse purchases by catching a fan's eye with must-own merchandise is a key area of opportunity.
This is especially important with clothing, which is one of the largest areas consumers impulse buy. Research shows that 53 percent of all impulse buys can be categorized into clothing, second only to grocery items. The average person spends $5,400 per year on impulse purchases. Here are some tips and tricks we've seen as most effective:
Providing high-quality, high-resolution images of products, as opposed to rendered concepts
Including images of the artist wearing the merchandise is another great way to grab the attention of fans
When using photos with models, please include height, weight and what size is being worn. We also suggest ironing and/or steaming clothing to make sure everything looks as crisp as possible.
Example Product Image Set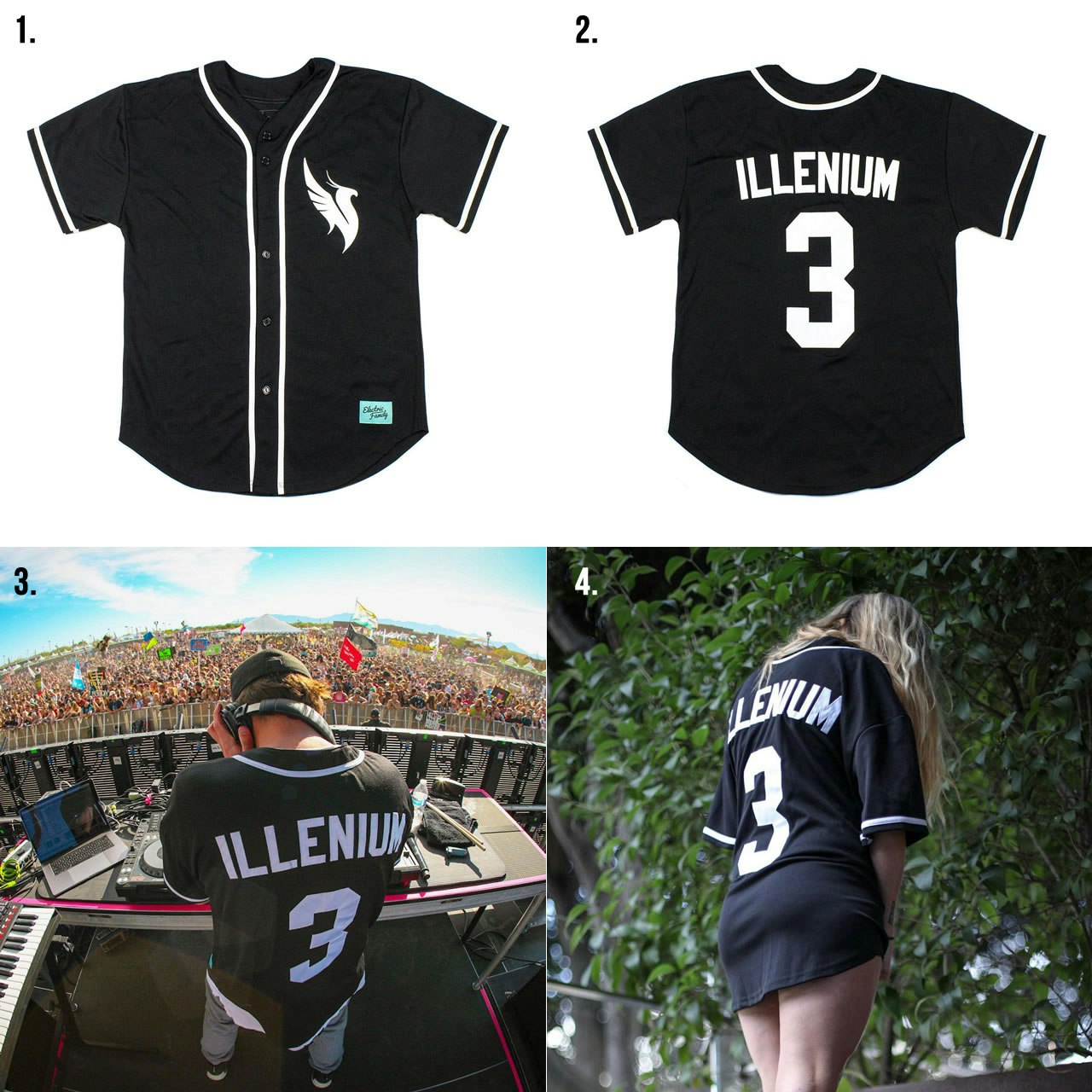 We want to drive as much SEO as possible in each product description, making it easier for our customers and fans of the artist to find them on Merchbar as well as your own eCommerce shops. Adding these terms below will help achieve that goal!
Artist name/nicknames/genre terms
Not every fan or customer our there searches their artists by the same names. For example, I might search for "Puff Daddy merch," but someone else may search for "P. Diddy merch," while others may look for "Sean Combs merch". Make sure you are fitting in any pertinent terms, nicknames, abbreviations or genre terms in there is possible! Here are some other examples:
Jay Z: Jigga, Hova, Young Hov, S-Dot, Shawn Carter, Mr. Carter, rapper, MC
Logic: Young Sinatra, Bobby Tarantino, rapper, MC
David Bowie: Ziggy Stardust, Thin White Duke, Starman, classic rock, 70s rock
Fanbase names
Fans often search for merch by referring to fanbases. For example, "Deadheads" for the Grateful Dead, "Little Monsters" for Lady Gaga, and "Beliebers" for Justin Bieber. Adding in those fan base names can really help drive engagement and conversions.
Album names, song names, lyrics
Fans and customers will also search for merch based on specifics from their favorite artists, their albums, songs, and lyrics. If you have a product that includes an album or song title, any sort of lyrics or reference, make sure to include it.
For example, if there was a Beatles shirt that said "We all want to change the world, you tell me that it's evolution", make sure that it says "Revolution", "White Album", "iconic song", "lyrics" and more in the product description.
Example Product Description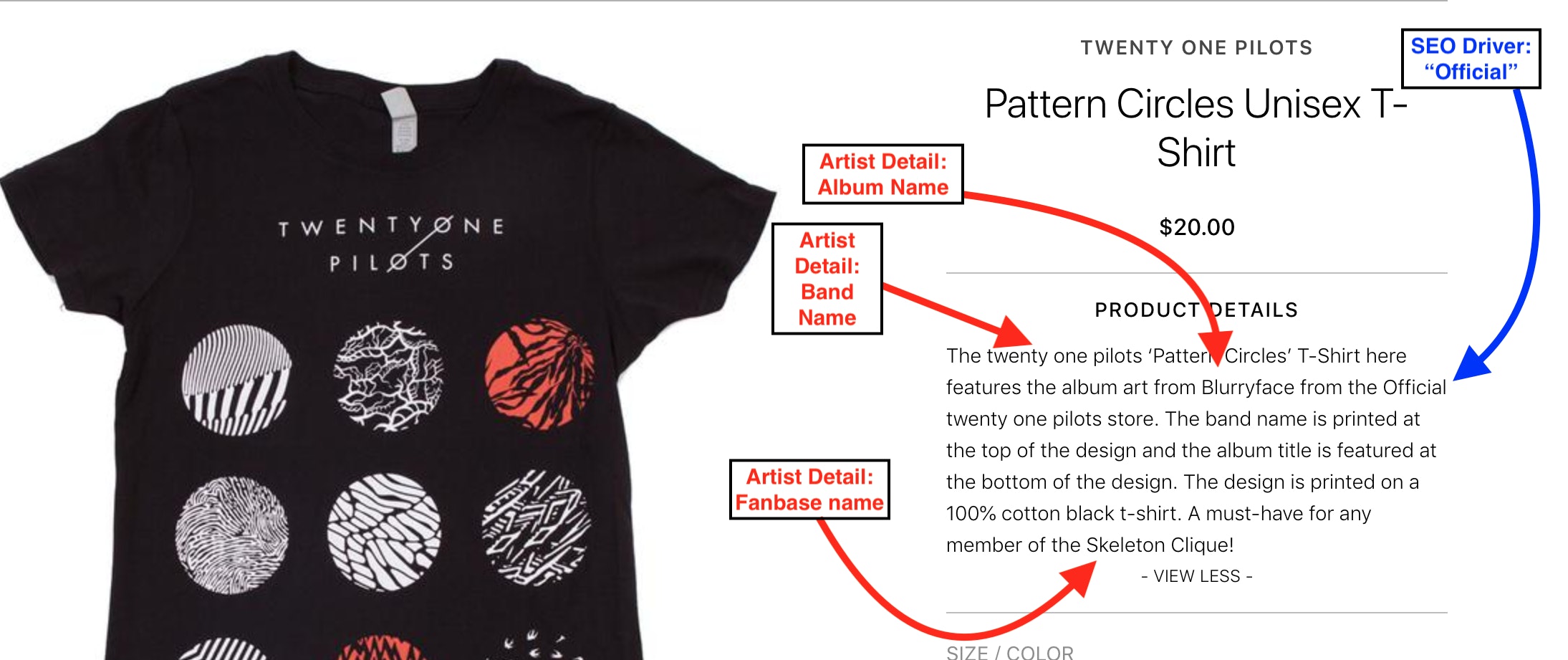 Similar to the artist and music-related details, there are certain terms that should be in each description. Most fans out there are looking for the real deal—authentic merch that's been blessed by the artists themselves. Make sure to add the following buzzwords to your product descriptions, in whatever order you see fit!
Official
Authentic
Licensed
100%
Merch store
Merch
Merchandise
There is no such thing as too much information when it comes to vinyl record descriptions. Fans that buy vinyl online are paying a premium to collect something meaningful to them. There should be no doubt in their mind about the specifics of the product they are purchasing, especially if this is a re-issue, a new edition or a box set.
Key details to provide for vinyl include:
UPC
Vinyl weight (grams)
Images of both sides of the cover, inside if applicable, and anything else of interest it may come with
Images of the vinyl records, any unique characteristics
Track listing
Listing of unique features (vinyl color, limited edition pressing, etc.)
Album content description
Example Product Listing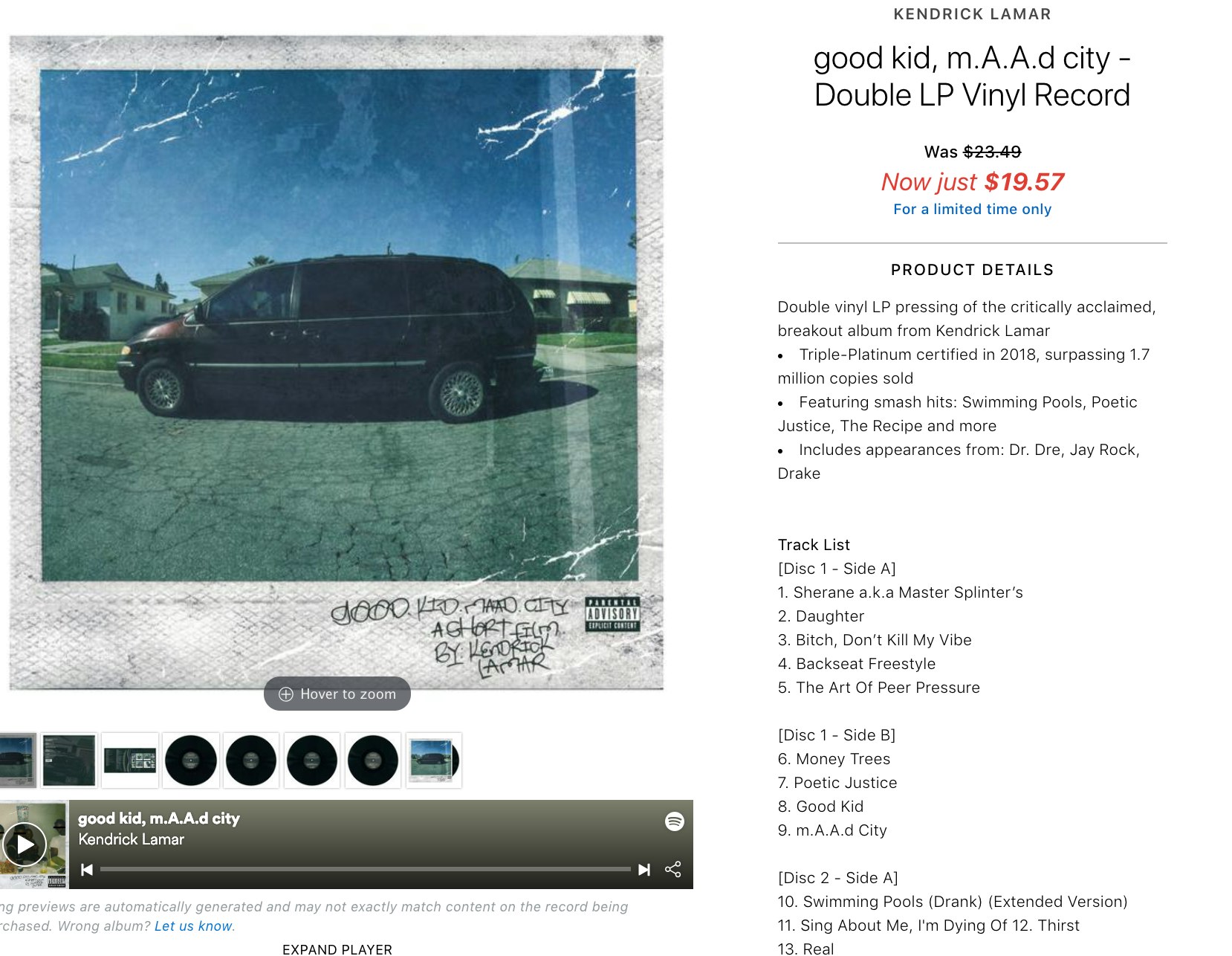 ______________________________________________________________________________________
Size charts increase sales conversions, reduce returns and make for higher customer satisfaction.
All merchandise should contain a size chart, the most important information for fans. Our research shows that a significant number of the Top 25 products sold on Merchbar have size charts included in their description.
Key details to provide for shirt include:
UPC
Size chart
Fabric details
Unique features
Merchandise description
Example Product Description